Via Isobel hittade jag ett boktest att slå ihjäl lite tid med innan jag rusar ut i världen. Med hjälp av sex frågor vet jag nu att jag som bok är "Watership down", eller "Den långa flykten" som vi väl brukar kalla den på svenska. Jag har ärligt talat inte läst den, men lustigt nog så pratade Morgan om den förra helgen när vi promenerade i Hagaparken, om jag minns rätt. Och eftersom jag brukar kalla mig minnesjunkie så gör jag väl troligen det.
Dessutom har jag via testet fått bekräftat att jag kan vara en världshistoriens bästa människor. Att bisatsen som sedan följde var om jag bara inte pratade om kaniner hela tiden struntar vi i.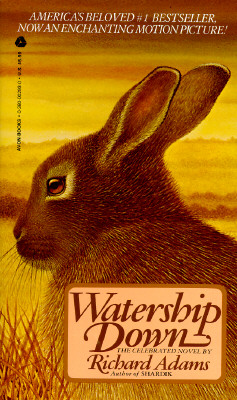 You're Watership Down!
by Richard Adams
Though many think of you as a bit young, even childish, you're
actually incredibly deep and complex. You show people the need to rethink their
assumptions, and confront them on everything from how they think to where they
build their houses. You might be one of the greatest people of all time. You'd
be recognized as such if you weren't always talking about talking rabbits.

Take the Book Quiz
at the Blue Pyramid.
Ja jag säger då det.